As a nonprofit, our only mission is you. We lead by passion and are dedicated to enhancing quality of life at every stage.
As the first hospice in the state of Wisconsin and the third in the nation, Unity has provided high quality, compassionate care for over 46 years. A true pioneer in caring for those needing home care assistance or coping with serious illness, Unity continues to be an industry pioneer launching the state's first palliative program in 2022, the areas first inpatient hospice facility in 2007 and the area's first Grief and Education Center in 2020. We serve people of all ages (including pediatric patients), nationalities, cultures, and spiritual practices. Trust that our well established protocols and seasoned staff will exceed your expectations of care. As a nonprofit 501(3)(c), we remain committed to reinvesting our financial resources back into patient care to improve the quality of life for those in our communities. Nonprofit hospices have been shown to provide*:
Nonprofit hospices have been shown to provide*:
wider ranges of services
higher staff to patient ratios
a more comprehensive grief support program
charity care
*Source: JAMA Internal Medicine, April 2014
We're here to help you and your loved one wherever you may be on your healthcare journey.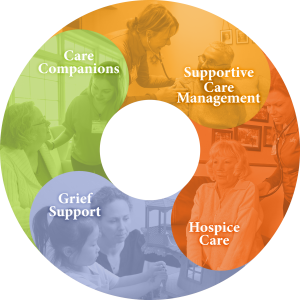 We match our full collection of care solutions with the needs, circumstances and wishes of you and your loved one to create an individualized care plan that's just right for you. In doing so, we are able to adapt to your changing needs, eliminating the anxiety and confusion of moving from provider to provider. This comprehensive and holistic approach sets us apart from other healthcare agencies, but more importantly, provides continuity and stability to you and your family.
We serve people of all ages, including pediatric patients. Caring for babies and children with serious illnesses, and their family members, takes special attention and skill. Unity works closely with pediatric patients' families and their doctors to ensure children receive expert clinical care and support through end of life
Wherever you call home, Unity comes to you to provide compassionate and skilled care. Whether you live in an apartment in downtown Green Bay, or a farmhouse in rural Shawano County, we'll be at your side. In addition to partnering with area nursing homes & assisted living facilities, Unity is the sole provider of inpatient hospice at Bellin Green Bay Hospital, Bellin Oconto Hospital, HSHS St. Clare Hospital, HSHS St. Mary's Hospital Medical Center, HSHS St. Vincent Hospital, Marinette Aurora Bay Area Medical Center and Door County Medical Center.
Unity's local care teams, coupled with our partnership with area pharmacies and agencies enable us to ensure prompt pain and symptom control as well emotional and spiritual support to patients and families.
Holistic Harmonies – A music program for hospice patients
Teleconnect – Virtually connects hospice patients and grief support clients with Unity care teams and family members.
Doorstep Meds – Medications and supplies delivered to your doorstep
Gifted Wish – Grant final wishes of hospice patients.
Respecting Valor Veteran Program – Specialized care and support for veterans including custom care plans, Veteran to Veteran Volunteer companions, veteran pinning ceremonies, and flag raising ceremonies.
Compassionate Touch – Gentle massage to reduce pain, anxiety, and depression among patients.
Reflections Journal Of Legacy and Life – A complimentary 46 page legacy journey for patients to document their personal journey and help them share their purpose, passions and experiences
Filled with Love – Keepsake bears and pillows handcrafted from the garments of hospice patients by Unity volunteers

Certified Pet Therapy – Our furry and friendly visitors serve as a non-judgmental listener and quiet friend for patients and families to improve mood and reduce anxiety
Recognizing that every individual grieves in a unique way, Unity Grief and Education Center (link to page) offers a wide variety of services to anyone who has experienced a death. Services provided in person, virtually, and by phone include:
Individual grief counseling
Family grief counseling
Supportive telephone calls
Newsletter and literature
Holiday support and memorial programming
Unique ways to honor and remember your loved one
Grief consultation for businesses and schools
When around the clock hospice care is needed for complex symptom management, temporary caregiver relief, or for care until the end of the hospice journey, Unity's inpatient facility provides a homelike, supportive environment in the comfort of private rooms. Only Unity hospice patients and families have access to the skilled care and support offered by the compassionate staff at Meng Hospice Residence.
Not all hospice agencies have hospice & palliative board-certified doctors on staff. At Unity, our hospice physicians are experienced specialists who are board-certified in hospice and palliative medicine, as well as such specialties as family practice, internal medicine, and geriatrics. They have expertise in pain and symptom management to help maximize patients' comfort and quality of life — the hallmarks of hospice care. Unity's doctors and nurse practitioners can even make house calls.